Hotel Info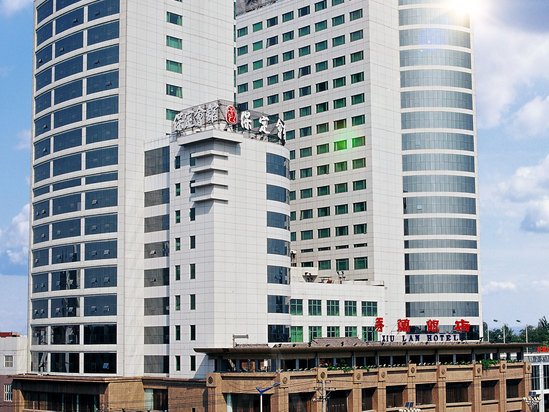 Xiulan Hotel Baoding
is located in the southwest of downtown Baoding in the ancient city. It is located in Lekai South Street, Jingxiu District Industrial Center, near Lekai Film Factory. The surrounding dining and entertainment facilities are complete.
The hotel sits west-east, north-south Gemini conjoined building, the south tower (Block A) is 17 floors above the ground, the building height is 87 meters, and the north tower (Block B) is 20 floors high, the building height is 98 meters. There are two basement floors; there are more than two hundred well-equipped luxury business rooms of various types, and the hotel's intelligent management system is adopted to make the style fresh, comfortable and elegant.
The hotel has 6 meeting rooms, which can be used for conferences and events of various sizes. The Chinese restaurant in the hotel can hold large-scale banquets for 600 people at the same time, and the Western restaurant can accommodate 160 people for dining at the same time.
The hotel has created a good place for leisure and entertainment for guests. The commercial fitness club with a building area of 3,000 square meters has an aerobic training area, a functional training area, a free power area, an equipment fitness area, a private education area, a multi-purpose aerobic hall, Table tennis, tennis court, yoga room, large indoor temperature-controlled swimming pool. There is also a surfing pool and sauna room, so that you can enjoy your leisure time while strengthening your body and building a beautiful figure. Accommodation guests can use the room card to swim and use fitness equipment.
At the same time, the first floor here is equipped with shopping malls, gold counters, tea gardens, bathing center on the 6th floor and other supporting facilities. I hope you can leave a good memory during your stay. The hotel adopts fire linkage system, 24-hour security monitoring system and 24-hour full guard patrol to ensure your journey is safe and comfortable.